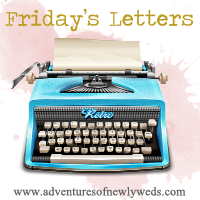 Friday's Letters is hosted by Ashley over at Adventures of Newlyweds. This is my first time participating; I've stumbled across a few blogs that participate in this, and thought it was a really cute idea. Here are my Friday letters...
Dear Logan, you are always awesome, but you were especially awesome this week. You bring so much joy and laughter into my life. Also, thank you for eating better this week - you worry me when you don't eat enough to keep a bird alive.
Dear spring, I love you so much, but you never stick around long enough. I'm sure we'll have more cool, rainy days before summer is officially here, but I think summer missed the memo and came a little early. As usual. It's too early to be this hot.
Dear tomorrow, please be amazing. Jenn deserves a beautiful bridal shower and a crazy-amazing bachelorette party. And since I never get to go out, I'd kinda like to think I deserve to have a good time, too. Pretty please?
Dear PMS, thanks so much for making me an irritable bitch the last couple days. You haven't reared your ugly head in awhile, why did you have to choose right now when there's so much going on? Please go fly a kite. Preferably in heavy traffic.
Dear body, I love seeing the changes in you. I love feeding you healthier foods and making you move and feeling you get stronger. Soon there will be a lot less of you, but I think it'll be good for our relationship.
Dear green tea, I'm still not loving you, but I'm managing to drink you every day, and I'm very proud of myself. I don't even miss coffee. But don't tell her that.
Have a great weekend, guys!