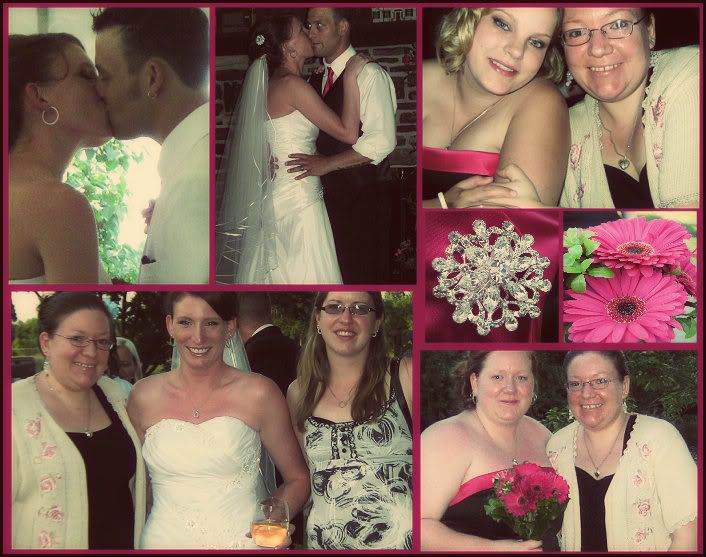 One of my best childhood friends, Jenn, got married on Saturday. The ceremony was held at a beautiful hall just outside town. The ceremony itself was outdoors with a lovely view of the river, and the weather was perfect. The chairs were under a tent (which Jenn and I got the license for a couple weeks ago - took us ten times longer to get the tent license than her marriage license), and there was a nice breeze coming off the water.
Jenn had 6 attendants - Starr, who I've known since Kindergarten (a year longer than I've known Jenn), three I've known for several years through Jenn (Tanya, Lindsey, and Jill), one I just met at Jenn's bridal shower (Andrea), and Jenn's new sister-in-law (also named Jenn). Jenn's dad and six-year-old son Kaleb walked her down the aisle. It was very sweet, and she looked beautiful.
Kaleb, Jenn, Mr. Ashby
The ceremony was short and simple, and was completed with a sand ceremony to signify the union of their families (Adam has two daughters - they were flower girls). It was really nice, and by some miracle, I managed not to cry!
After the ceremony, there was a lot of standing around while pictures were taken. Suleena (my other best childhood friend, and my date for the wedding) and I hung out with the bridal party while they waited for their pictures, which didn't end up happening until after dinner.
Me, Jenn, Suleena
Intros and speeches took place in between dinner courses, and then we all went outside so some of the tables could be moved to create a dance floor, and so more pictures could be taken. We ended up with the bridal party again, taking pictures of our own while they waited for their actual professional shots. We had a lot of fun.
Me and Suleena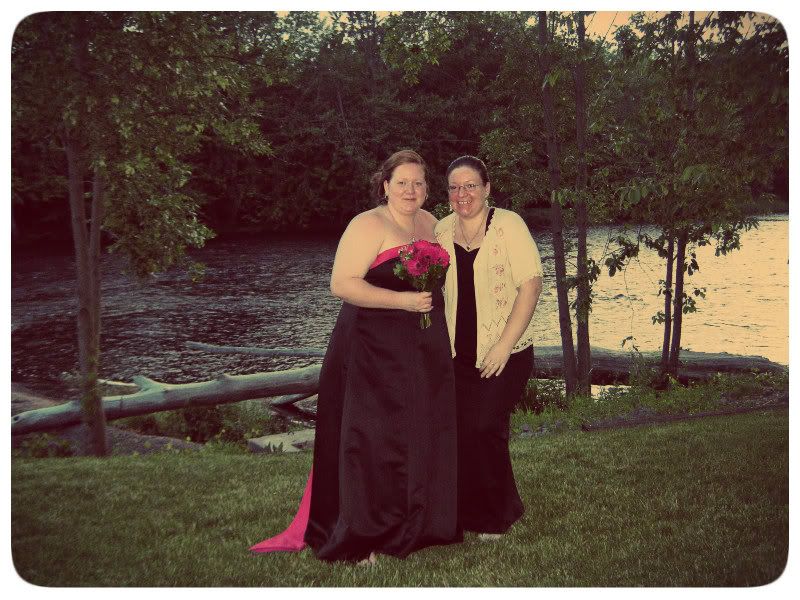 Tanya and me
When we went back inside, Suleena and I left our assigned table of strangers and sat with the bridal party near the dance floor while Jenn and Adam had their first dance, then the father/daughter and mother/son dances. I only cried twice that night - once during one of the groomsmen's speeches when he said Kaleb told him he was getting a new dad that day and asked if it was ok, because he (the groomsmen) had basically been like a dad up until then, and once when Jenn was dancing with her dad, because it made me sad that I'll never have that. I'd say that's pretty good for me, since I'm known for being a crier!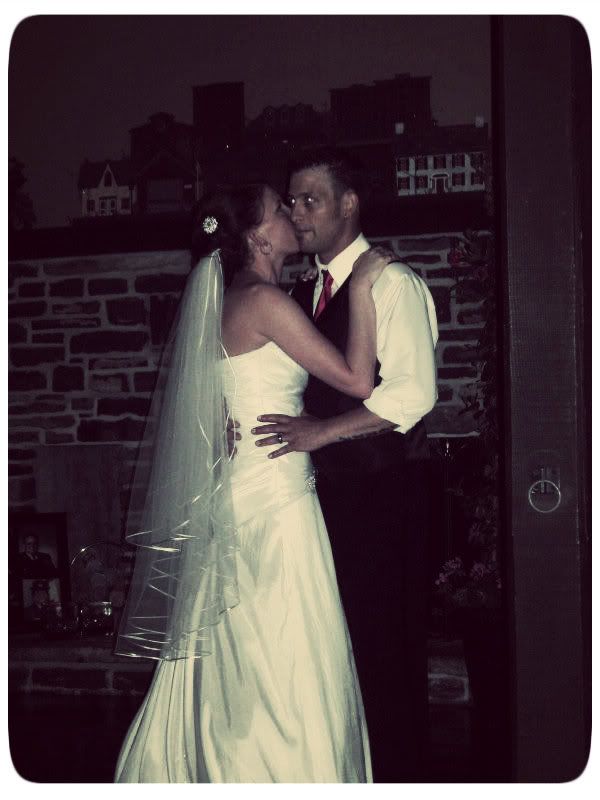 The fun really began when we all finally got on the dance floor. Except for her bachelorette party, I haven't been dancing with Jenn in about eight years, and we used to go every weekend in college, so it was like a blast from the past, especially with Tanya there, because she used to be one of our club buddies.
My favorite part of the day (besides actually seeing Jenn get married, of course) was getting to catch up with old friends - Starr and Tanya in particular. It made me sad when we left, because I have no idea when I'll see them again. Starr lives out of town, and I haven't seen her since we graduated from high school (ten years this month), and I haven't seen Tanya since about 2005, and she just moved across the country a few weeks ago, so chances of seeing her again for awhile are slim. It's a strange feeling - kind of bittersweet, getting to catch up, feeling like you've reconnected, but knowing it will probably be years before we see each other again.
Starr and me
Anyway, it was a great day, and I had a lot of fun. It was incredibly surreal to watch Jenn get married. None of us ever thought she'd get married, and when we were little, we all thought I'd be the first to get married and have kids, but almost all our friends are married and/or have kids, and I'm still single (feeling kind of like the spinster aunt lately). I'm so happy that Jenn's happy, and I hope she and Adam have a long, love-filled life together.