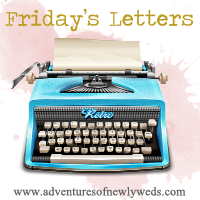 Friday's Letters is hosted by Ashley over at Adventures of Newlyweds. This has been a really busy week for me, and it's looking like it'll be a busy weekend, too. I swear I need a few more hours in the day just to get everything done.
Dear WalMart, thanks so much for continuing to give my sister-in-law the crappiest hours known to man so that we won't have a chance to celebrate Thanksgiving (one of my favourite holidays) this weekend. I have a few choice words for you, but I'd like to keep this blog PG.
Dear Mum, I feel like we're in a race to see who will lose her sanity first. I'm not liking it. At all. This seems like a really good time to run away to Ireland.
Dear Jessica, thank you for listening to me rant repeatedly this week and always being there (and by 'there' I mean 400+ miles away) with a reassuring and comforting word. Your cyber hugs are the best, and I love you!
Dear The Game Changer, I can't believe you will be out in the world in less than six weeks! I also can't believe that in less than six weeks I'll be a three-times-published author. Eep! I'm a little worried (ok, a lot worried) that only two of my five beta readers have gotten back to me, and I'm beginning to think I'll either need to go ahead without them or push back the release date…neither of which will make me a happy girl!
Dear Logan, I love you to bits, and even though having you here every day is sometimes stressful and has seriously thrown my schedule into the toilet, you're a joy to have around (most of the time...except for yesterday...you were the devil yesterday and I couldn't wait for you to go home) and getting to spend so much time with you and shape your little two-year-old brain is an honour.
Dear blog, last Friday I said I'd try to do better with updating you…and considering this is my first post since then, you can see how well I did there. Sorry!
I hope you've all had a great week! Be sure to leave a comment and/or link me up to your Friday's Letters - or just your blog if you're not here from Friday's Letters - and I'll be sure to visit you back! :-)