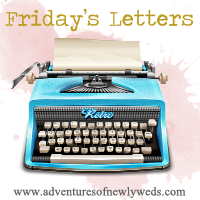 Friday's Letters is hosted by Ashley over at Adventures of Newlyweds. This has been a really busy week for me, and it's looking like it'll be a busy weekend, too. I swear I need a few more hours in the day just to get everything done.
Dear weird, mysterious flu-like illness that made me feel like crap Monday night through Wednesday night,
thank you for going away. I have way too much going on right now to be sick.
Dear Visa, upping my credit limit and dropping my interest by 8% was the best and worst thing ever. I've been going a little nuts on the spending, but in my defense, I've hardly bought anything all year...still...Dear self, it's NOT FREE MONEY, you have to pay it back. Take it easy!
Dear Dial guava and tangerine body wash, you were the cheapest stuff I could find, and even though guava and tangerine seem like a bizarre combination, you smell so good and you make my skin so soft.
Dear Mum, you're a rock star, as always. What more can I say? I couldn't ask for a better best friend.
Dear editor for
The Game Changer, I could have kissed you when I woke up this morning and saw that you'd finished the book and sent me your notes. The last few weeks have been hell wondering if you were going to finish on time, and now I feel like 1,000 pound weight has been lifted off my shoulders. I still have a lot of work to do, but between your comments, my alpha reader's comments, and my one amazing beta reader who came through...I think I'll be ok. *crosses fingers*
Dear Nashville, I was determined not to watch any new shows this fall, and I lost interest in you after seeing the same commercial 5,428,103 times over the summer, but I caved, and you were actually pretty darn amazing. I guess one new show this season won't hurt...
Dear next week, I am so f'ing glad I have Monday, Tuesday, and Wednesday off from watching Logan. I need the break...not that it will technically be a break break, because I have a million things to do and I'll be working morning, noon, and night, but at least I'll actually be able to work without being interrupted every five seconds by a pint-sized monster who uses the world's sweetest grin to manipulate and distract me.
Dear Logan, you were the sweetest thing this week. You're so funny and smart and crazy, and I love you so much it hurts.
Serenading me while I attempted to work on Thursday afternoon
Happy Friday, everyone! I hope you've all had a great week, and that you have a wonderful weekend.
Be sure to leave a comment and/or link me up to your Friday's Letters - or just your blog if you're not here from Friday's Letters - and I'll be sure to visit you back! :-)