One of my best childhood friends, Jenn, is getting married June 16th. Jenn and I have been friends since 1st grade, so that's about 23 years…a freaking long time to be friends with someone. We've always had this incredibly volatile relationship - we've loved each other like sisters and hated each other like worst enemies. Sometimes in the same day.
And now she's getting married. Every time I say that, I either seem to laugh or cry. It's just so surreal. Jenn has a six-year-old son, so she's already technically a 'grown up' but this seals the deal, you know? She'll officially be an adult, despite the fact that she's been responsible for another human life for the last six years. It's just that most people - Jenn included, I think - likely thought Jenn would never get married. And now she is, and, like I said, it's just incredibly surreal.
Even more surreal is the fact that I didn't even meet her fiancé, Adam, until this past Saturday. Jenn and I are in contact fairly regularly, but we don't see each other that much. We've had some issues over the years (in case you didn't guess by the whole 'we've always had a volatile relationship' thing), and we'll go months without seeing or speaking to each other, but then we'll all of a sudden start hanging out again. We started spending a bit of time together shortly after Jenn met Adam year before last. We had a few movie night/sleepovers, but then she got more serious with Adam and we went back to not seeing each other. I was absolutely shocked when they got engaged that Christmas. I think they'd only been together three months or so, so I was glad to hear they'd be engaged for a year and a half.
I think before Saturday, the last time I saw Jenn was just after Christmas when we spent a day shopping together, so almost six months. I didn't think I'd even meet Adam until the wedding, which gave me such a bizarre feeling, but I finally got to meet him Saturday night.
Another weird feeling comes from the fact that I always expected to be in her bridal party. I can understand why I'm not - neither of us has exactly been the ideal friend at times. I know there were plenty of times when I should have been there for her and I wasn't, and there were times I'd wished she was there for me and she wasn't - there are a lot of things I'd change about our history if I had the chance. She's had a group of friends who have pretty much been there for her, and I can understand why they're in her bridal party and I'm not. So because I understand, I can't say that I'm hurt, it's just strange, especially after 23 years of friendship. I didn't get to go to her Jack and Jill because I already had plans, so when I was invited to the shower, I thought 'come hell or high water, I am going to that shower', and I'm so glad I did.
And now that all that heavy stuff is out of the way, I'll get onto the fun stuff. The shower was co-hosted by Jenn's maid of honour, Lindsey, and Jenn's mom. We played a few games, had some great food and cake, and a lot of drinks. And when I say a lot, I mean I spent almost 12 hours straight drinking, and I'm not even kidding. Lindsey got Suleena (my other childhood best friend, and my date for the wedding) and me a drink as soon as we arrived, and I pretty much always had a drink the entire day and night. Days later, I'm still trying to figure out how I ended up not getting violently ill lol.
Lindsey had this scavenger hunt checklist of embarrassing things Jenn had to, and we went all over town doing them before ending up at the club. I haven't been out dancing since my sister-in-law's bachelorette party, and before that it was my college days when I used to go out every weekend with Jenn. We had a blast - our pregnant friend Starr (who I've known since kindergarten, and haven't seen since high school) was our designated driver who got to chauffeur us all around to check things off the list, then we ended up at Boston Pizza for more drinks and something to eat, and then Starr dropped us off at the club. It took us until almost 2am, but we finally got everything crossed off the list, and we had an incredible time in the process.
Less than three weeks until the wedding. I know I'm going to bawl my eyes out, and I also know I'm going to wish I was part of the whole thing, up there with her, part of the laughter and jokes and fun. But that's my burden to bear. All I can do is try to be a better friend now and make up for the times I should have been a better friend.
Now I just need to find an outfit for the wedding! ;-)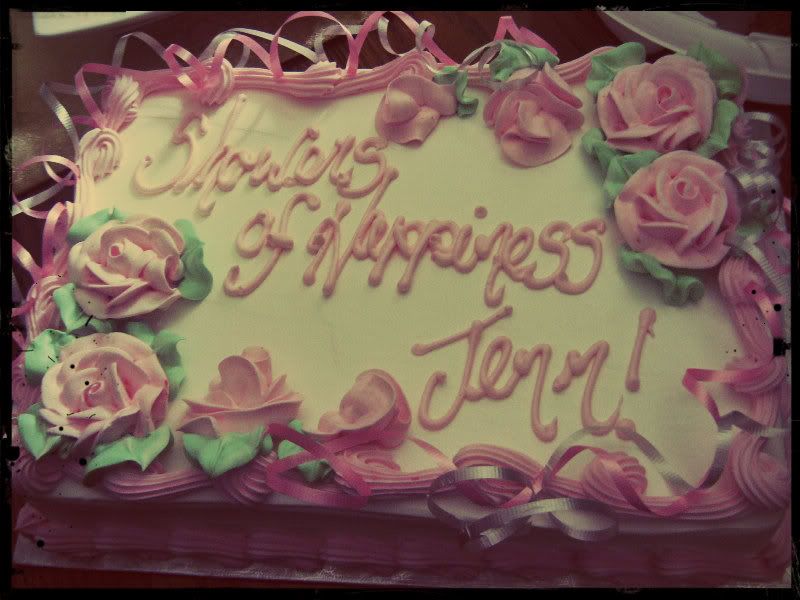 Super yummy cake
The bride in some of her bachelorette gear, with her giant booze jug
Starr, Jenn, & me in our bridal gowns - the product of a shower game
Here comes the bride...now I just need a groom...lol
Mmm, fishbowl full o' booze. So good.